The #1 Roof Replacement Company in Akron OH

Providing Expert Roof Replacements to Akron, OH and Surrounding Areas
Akron's Trusted Experts When It Comes To Roof Replacement
BLC Roofing is a locally owned, insured, and licensed company helping homeowners with roof replacement in Akron, OH.
Our goal is to always deliver top-notch roof replacement services in Akron. Our team has served Akron since 2015 and is always ready to assist you. No matter what the elements have done to your roof, we are here to help when you need your roof replaced!
When You Need A Professional Roof Replacement in Akron
Choosing subpar roof replacement services can lead to costly future repairs and a cascade of problems. Improperly installed roofs show damage early on, triggering a domino effect of repair needs. Additionally, hiring inexperienced contractors compromises the quality of work and puts you and your family at risk.
Moreover, if an inadequately trained and uninsured roofing crew works on your property, you could be personally liable for any resulting injuries or damages. This emphasizes the importance of selecting skilled, insured professionals for roof replacement projects.
GAF Certified Roofing Contractor
Locally Owned and Family Operated
Fully Licensed, Bonded and Insured
5-Year Workmanship Warranty
We Take Care of More Than Just Roof Replacement in Akron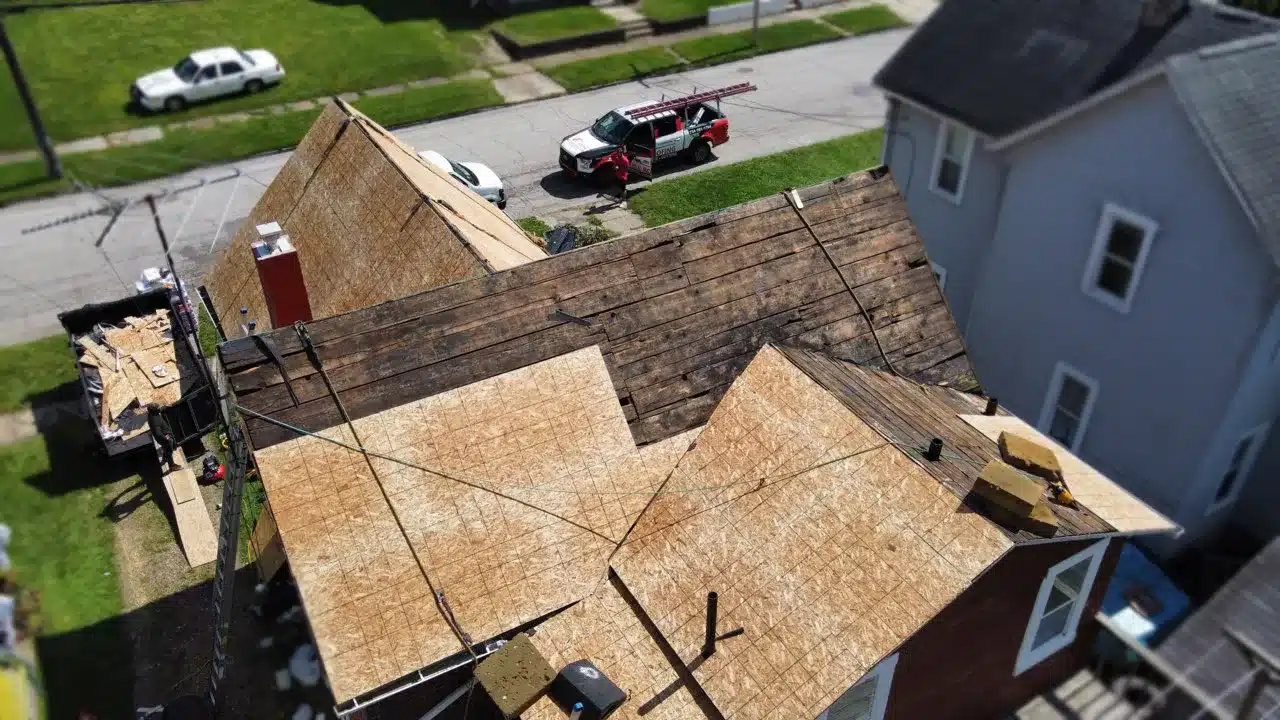 Turn To The Best

Roof Replacement

Service in Akron, OH You Can Trust
BLC Roofing provides premier roof replacement services with a team of friendly and professional local contractors who are highly experienced in the field. We offer honest assessments of your roof's condition, ensuring peace of mind and earning your trust with every interaction.
Thinking about a roof replacement? Reach out to us today for a free estimate with our residential roofing experts. After a comprehensive inspection, we will determine whether your roof needs to be replaced or repaired.
What Our

Roof Replacement

Customers in Akron OH Say
Looking For An Expert in Roof Replacement Near You That Will Do The Job Right The First Time?

If you're in Akron, OH, and are looking for a roofing contractor that combines expertise, quality, and affordability, BLC Roofing is the name to trust. With years of experience and countless satisfied customers, we are Akron's premier roofing solution provider.
Our Process For Roof Replacement in Akron is Simple
It starts with scheduling a free inspection. One of our professionals from Akron will come out to thoroughly inspect your current roof. Once completed, they'll compile everything into a comprehensive report that details what they found and suggestions for the next step.
At BLC Roofing, you'll never pay a service fee for us to come out to give you an estimate. We offer cost-effective solutions if you need a simple repair to prevent leaks or a complete roof replacement. Contact us today for a free inspection.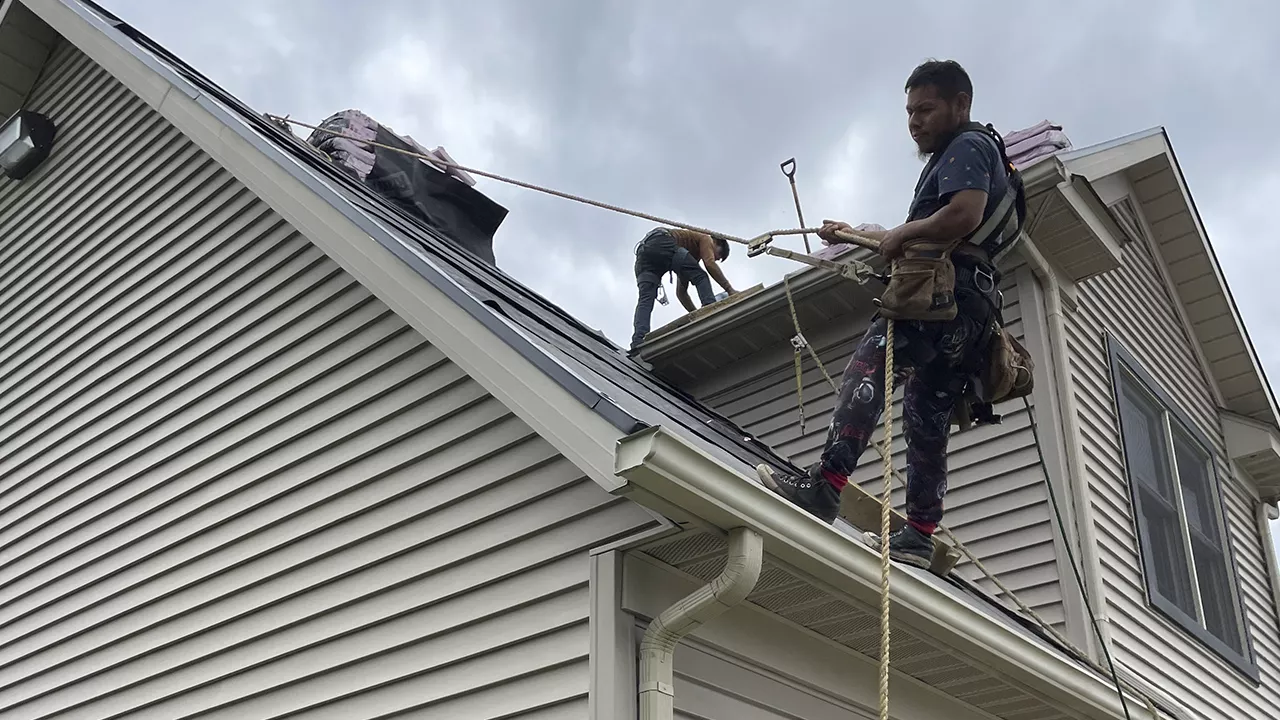 Step 1: Schedule a Roof Inspection
Contact one of our highly skilled experts in Akron to schedule an inspection of your current roof. One of our professionals will come out at a time of your choosing, perform the inspection, and give you a comprehensive report on their findings.
All of the inspections, whether roof or siding, are always free. You'll never pay a service fee for us to come out to your home for any estimates.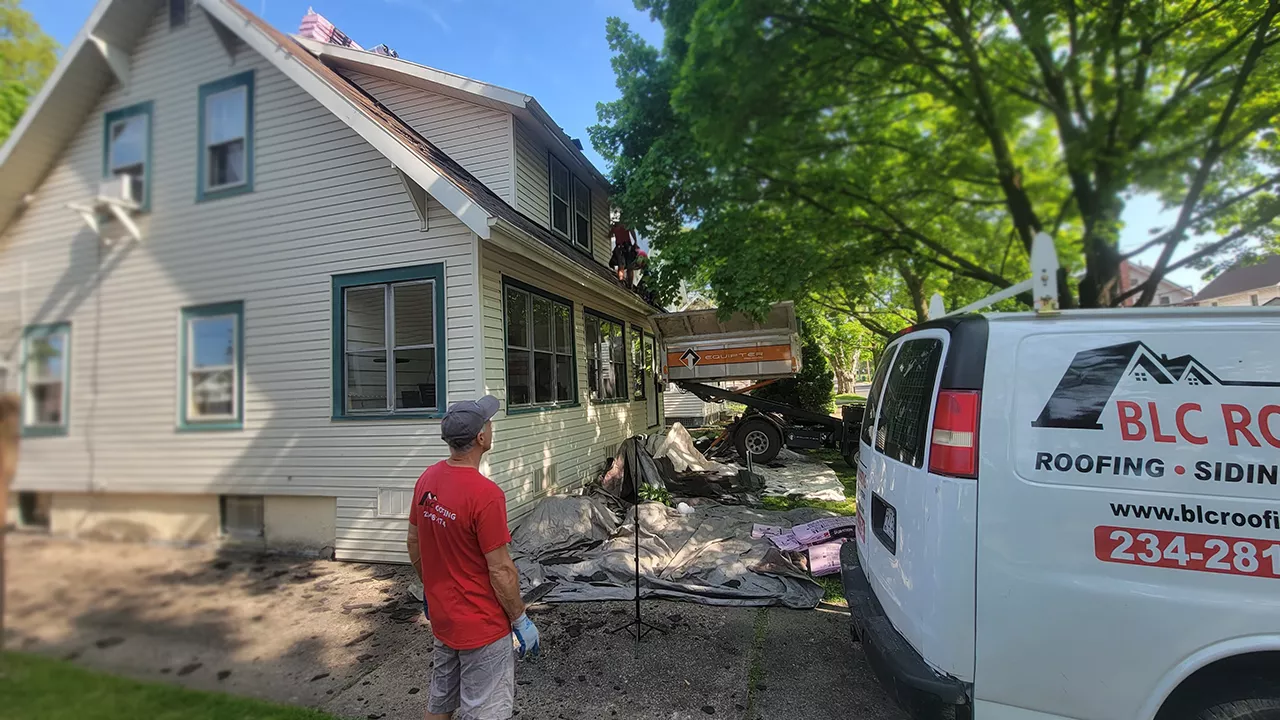 Step 2: Choose From Your Options
There are a lot of choices when it comes to color and type of roofing when it comes to a roof replacement. It can be overwhelming.  We'll walk you through your choices and make recommendations based on your budget and preferences.
Our team in Akron is here to guide you through that process and make the roof replacement process as stress-free as possible.
Step 3: Enjoy Your New Roof
Once we know what direction you want to go with your roof, our team in Akron will get started. They'll take care of the teardown and roof installation from start to finish. You'll see the entire process and, in the end, have a great-looking home that will increase your home's value and help you protect what matters most.
Our team is here to help you with all your roof replacement needs!
Contact BLC Roofing in Akron, OH
Ready to experience the best roof replacement service in Akron, OH? Reach out to us today!
Address
894 W Wilbeth Rd., Akron, OH 44314
Questions We're Often Asked About Roof Replacement Services
We've compiled a list of the most frequently asked questions your neighbors in Akron have asked about roof replacement. If you have a question you don't see here, contact us so we can help you with the answers you're looking for.
How Much Does a Roof Replacement Cost?
The average cost for a roof replacement in Ohio in 2023 is between $9,000 and $15,000, with the national average costing around $10,994.
The factors outlined below will determine the final cost of replacing your roof.
Do You Only Install Asphalt Shingles, Or Can You Install Metal Roofs?
Does Replacing My Roof Increase My Home Value?
Replacing your roof can be a big financial decision and is often done to increase the value of your home. But does it actually work? It's important to understand how much of an impact a new roof can have when it comes to increasing your home's value.
Generally speaking, replacing an old or damaged roof can add significant value to your home. A new roof can improve the overall appeal of your property and make it more attractive to potential buyers. Additionally, having a newer roof on the property will also provide peace of mind for any future owners, as they won't need to worry about dealing with costly repairs or replacements anytime soon.
A well-maintained roof can also help extend the life of other parts of the house. This means that a new roof could save you money in the long run by preventing damage from water infiltration or other issues related to an aging roof. Ultimately, replacing your roof is likely to be seen as a selling point for potential buyers, making their decision easier and increasing the resale value of your home in the process.
Replacing your old and worn-out roof can be a great investment that pays off both now and in the future. It not only adds curb appeal but could also prevent further damage down the line and give potential buyers peace of mind when considering purchasing your home.
How Long Does A Roof Typically Last Before Needing To Be Replaced?
When it comes to roofing, one of the most common questions homeowners have is: how long does a roof typically last before needing to be replaced? The truth is that this depends on several factors, such as the climate, materials used in the roofing system, and the quality of installation.
As a general rule, asphalt shingle roofs can last up to 20 years if they're properly installed and maintained. This type of roofing material is also relatively inexpensive and easy to install. Metal roofs might last even longer, up to 50 years or more, with proper care. However, they tend to cost significantly more than other types of roofing materials.
It's important to keep in mind that in addition to replacing your roof after it has reached its expected life span, there are many other benefits of doing so. A new roof can help improve energy efficiency by better insulating your home against heat transfer. Adding aesthetic value can also protect your home from water damage and increase its overall curb appeal.
When considering whether or not you should replace your roof, think about how old it is and what condition it's in currently. If you've noticed any signs of wear and tear or if it's been over 20 years since installation then it may be time for an update!
How Do You Determine The Cost When Replacing a Roof?
Replacing a roof is a considerable expense and investment in your home. Not only will it affect the safety, but the value of your home. 
We are often asked how we estimate the cost of a new roof.
Like with any home repair job, it depends. There are several factors that we look at when providing a free roof estimate:
Square footage

Roofing Materials

Asphalt shingles

Metal roofing

Tile roofing

Wooden shingles

Slate roofing

Labor costs

Roof height and pitch

Roofing removal costs

Additional roof replacement materials and features

New roof underlayment

Replacement or repair of roof decking

Water barriers

Installment of new fascia boards and soffit replacement

New pipe boosts
We don't just come out and give you an estimate based on the size of your roof. This is a significant investment, and we want to ensure your roof is installed correctly and will last. 
Can I Replace My Roof Myself Or Do I Need A Professional?
Replacing your roof is a major decision and one that can have a huge impact on the value of your home. But before you decide whether to take on the job yourself or hire a professional, it's important to understand what's involved.
The first thing to consider when replacing your roof is safety. Working at heights can be dangerous, and even those with some DIY experience may not feel comfortable taking on the task themselves. If you don't feel safe taking on this job, then hiring a professional is definitely recommended. Professional roofers are experienced in working at heights and have access to the required safety equipment and tools.
There are also other benefits to having someone else do the work for you. Professionals will have access to better quality materials than you would be able to purchase yourself, and they should also be able to do the job more quickly, saving you time and effort in the long run. They will also be able to provide an expert opinion on how best to tackle any repairs or replacements that need doing.
Before making a decision either way, it's important to weigh up all of these factors carefully – safety, quality of materials, cost of labor and time saved – so that you can make an informed decision about whether to replace your roof yourself or hiring a professional is right for you.
Will My Insurance Company Cover a New Roof Replacement?
We get asked this often. Your home is the most exposed part of your home that is constantly put to the test. Whether it's the major heat in the summer wearing your roof durability down or heavy rains and severe storms causing major or minor damage, your roof will need to be repaired or replaced at some point.
Depending on your homeowner's insurance, it could cover some or all of the costs of a new roof replacement. Covered insurance events include:
Fire

Hail

A Falling Tree

Ice storms

Heavy wind

Tornadoes
If your roof hasn't been maintained or installed correctly, they may not cover all of the replacement. 
Are There Any Tax Credits Or Incentives Available For Roof Replacements?
When it comes to replacing your roof, there may be more than just the cost to consider. Are there any tax credits or incentives available for a roof replacement?
In some cases, homeowners may be able to take advantage of certain tax credits or incentives. Depending on where you live, there may be local, state, and/or federal programs that offer financial assistance when replacing a roof. It's important to research your options and find out if you can receive any type of credit or incentive. It's also worth checking with your insurance company since some policies may be eligible for discounts if you replace your roof.
Finally, it's important to look into what type of material is being used in the replacement. Certain materials are eligible for different types of credits and incentives, so make sure you choose one that will allow you to qualify for the most benefits possible. Additionally, some materials have longer lifespans than others and require less maintenance over time which could help lower costs in the future as well.
Taking all these factors into consideration can help homeowners save money in the long run when deciding on whether or not to replace their roof. Doing research ahead of time can help ensure you get the most bang for your buck when it comes time to make repairs or upgrades to your home.
If I Replace My Roof, How Long Would It Take For The Job To Be Completed?
On average, a new roof replacement will take 1-4 days. There are several factors we look at that determine the time:
Weather:

 Weather significantly impacts the time it takes for our team to work. Rainy and windy weather may cause delays, and with cold weather, additional steps may need to be taken to ensure your roof is installed correctly.

Roof size and steepness: 

As a reasonable frame of reference, the larger the roof, the longer the job will take. Houses with a steep incline will require additional measures for our crew to work safely.

Accessibility: 

If your house is exceptionally close to other homes or has no paved access, this can affect the time it takes to replace your current roof. 
When getting a free roof replacement estimate, our team will give you a time frame and keep you up to date should that change.
Choose
Certified Professionals
When it comes to your home or business, don't compromise. Choose a roofing contractor that brings certified expertise and a track record of excellence. Choose BLC Roofing for all your roofing needs in Akron, Ohio.