Estimate Your

Roof Replacement Costs

with Our Easy-to-Use Calculator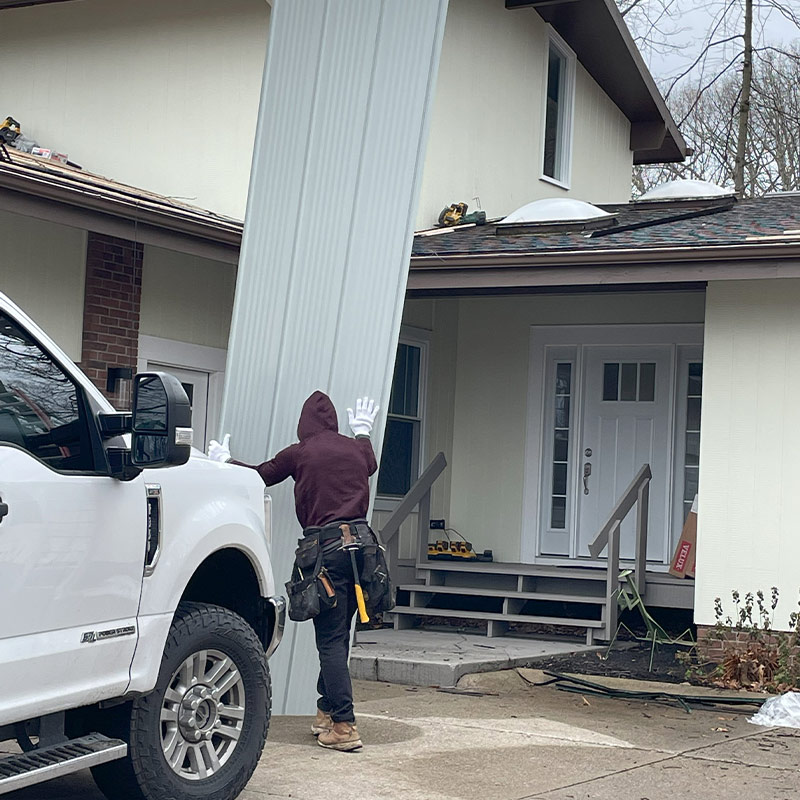 Are you planning on replacing or repairing your roof but not sure how much it might cost? We understand that budgeting for such a crucial part of your home can seem overwhelming. That's why BLC Roofing brings you a comprehensive and user-friendly Roof Cost Calculator.
Our Roof Cost Calculator is designed to provide you with an estimated cost of your roofing project. It takes into account various factors such as the size and slope of your roof, the materials you're planning to use, the complexity of the job, and your location. By considering these aspects, we ensure that the calculator gives you a comprehensive and accurate estimate.
What To Consider When Deciding To Repair or Replace a Roof
When considering a roof repair or replacement, there are several important factors to take into account. Here are some key considerations:
1. Age of the Roof
This is typically the first factor to consider. If your roof is close to or has exceeded its expected lifespan (typically 20-25 years for asphalt shingles, or 50 years for metal or tile), it might be time for a replacement.
2. Extent of Damage
The nature and extent of damage will significantly influence your decision. Minor issues, like a few missing or broken shingles, can often be repaired. However, more extensive damage like a sagging roof or widespread rot or mold is a strong indicator for a replacement.
3. Cost of Repair vs Replacement
Sometimes, the cost of repairing a roof can be almost as much as replacing it, particularly if the roof is older and requires frequent repairs. You'll want to compare the costs of both options.
4. Energy Efficiency
New roofing materials are often more energy-efficient, which could potentially lower your heating and cooling costs. If your roof is not energy efficient, replacing it could lead to savings in the long term.
5. Resale Value
If you plan on selling your home in the near future, a new roof can significantly increase your property's value and curb appeal.
6. Local Building Codes
Some areas have building codes that may affect whether you can overlay a second layer of shingles on an existing layer, or if you have to remove the old roof first. It's always important to check your local building codes before making a decision.
7. Material Selection
Different roofing materials (like asphalt shingles, metal, wood, slate, or tile) vary in their longevity, cost, and appearance. You'll want to choose a material that fits your budget and the architectural style of your home.
8. Professional Inspection
A professional inspection can give you a more accurate understanding of your roof's condition. Some problems aren't apparent to the untrained eye.
9. Choosing the Right Contractor
It's crucial to select a trustworthy, experienced roofing contractor who offers a solid warranty. They should be licensed, insured, and have good reviews.
Remember, while repairs might be less costly in the short term, patching a roof that really needs to be replaced could cost you more in the long run. The professionals at BLC Roofing can help guide you in making this important decision.
 BLC Roofing is here to help!
Schedule a Free
Roof Inspection

&

Estimate

Today!
Free Roof Inspection For Repairs
Let our team of experts come out and see exactly what needs to be repaired on your roof. We will give you a no-pressure estimate of only the work that needs to be done.
Free Roof Inspection For Repairs
One Day Turnaround On Most Repairs
Seeing that your roof has damage is the last thing you want as a homeowner. Our team of experts can find exactly where the damage is and make the repairs quickly and affordable.
One Day Turnaround On Most Repairs
Fully Licensed & Insured
You can be confident the people installing your roof have the knowledge and expertise to do the work right the first time.
Our team is here to help you with all of your roofing needs!